Reliance Jio Phone 2 smart feature phone unveiled: Price, full specifications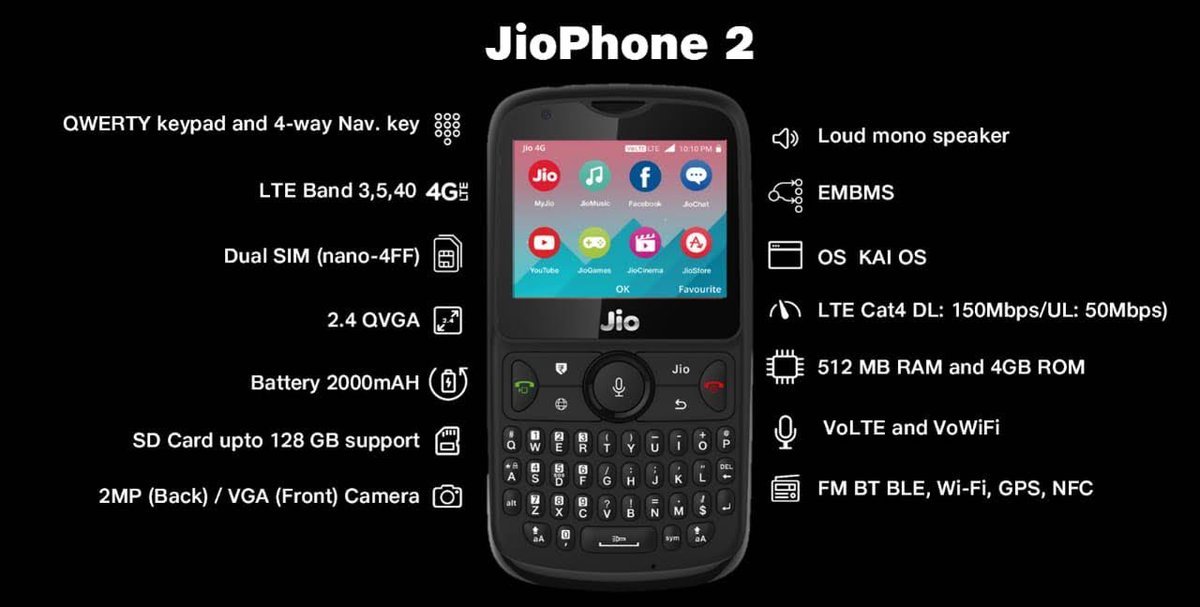 Mumbai: Reliance Jio Phone users will soon be able to access WhatsApp, Facebook and YouTube on their phones, Reliance Industries Ltd chairman Mukesh Ambani announced at RIL AGM today while unveiling Jio Phone 2 at an introductory price of Rs 2,999.
Reliance JioPhone 2 will be available from August 15 for Rs 2,999. The company also introduced a new Jio Monsoon offer under which customers can replace their older feature phone for a new JioPhone for Rs 501.
Jio Phone 2, the company's latest 4G VoLTE-enabled feature phone, was announced on Thursday at Reliance Industries Limited's Annual General Meeting (AGM), alongside FTTH service Jio GigaFiber.
Addressing the company's 41st Annual General Meeting, Chairman & Managing Director Mukesh Ambani said, "We have more than 25 million JioPhone users in India. We are now taking the JioPhone to the next level, with added capabilities and functionalities."
"Since I last spoke, we have doubled our [Jio] customer base to over 215 million now. 215 million customers within 22 months of start is a record that no technology company has been able to achieve anywhere in the world," he added.
Jio Phone 2 vs Jio Phone: What's New and Different?
1.Design:-
Design is one of the major differentiators between the two phones. The Jio Phone 2 comes with a full-size QWERTY keyboard and 4-way navigation keys that offer a BlackBerry-style appearance. Even the display is larger and the form factor much wider. In comparison, the Jio Phone has a smaller display and a T9-style keypad. Both of them have a dedicated key to trigger the voice assistant.
2.Software
Both the Jio Phone 2 and Jio Phone run on KaiOS. While most of the apps and functionality on both handsets remain same, the Jio Phone 2 will get apps like YouTube and WhatsApp out-of-the-box. That said, these two apps will also soon be available for the original Jio Phone, starting August 15, possibly through the Jio App Store.
3.Jio phone 2: Full Specifications:-
QWERTY Keypad with 4-Way Navigation Key: The most significant new feature of the JioPhone 2 is the QWERTY keyboard, something that is no longer very common. If you are someone who loved the design of BlackBerry smartphones with a QWERTY keyboard, the JioPhone 2's design should appeal to you. In addition to the QWERTY keypad, the feature phone has a 4-way navigation key as well.
Dual–SIM Support: Another key feature of the new JioPhone 2 is the presence of Dual SIM card slots. The first generation JioPhone, on the other hand, comes with a single SIM card slot. This means you can use two SIM cards on the JioPhone 2 instead of just one.
App Store: While most feature phones do not offer any app support at all, the JioPhone 2 comes with an app store, allowing users to download some of the most popular mobile apps like Facebook, YouTube, and even WhatsApp. However, this will not be an exclusive feature on the JioPhone 2. Reliance did announce during the AGM today that JioPhone users will also be able to download these apps from the app store on August 15th.
4G VoLTE + VoWiFi: The JioPhone 2, like its predecessor, offers support for not just 4G LTE but also 4G VoLTE. This means you will be able to enjoy HD quality voice calls over the Reliance Jio LTE network. Additionally, the phone comes with VoWiFi as well, which lets users make phone calls over a Wi-Fi network. In terms of network connectivity, the JioPhone 2 comes with LTE Cat.4, supporting maximum download speeds of 150 Mbps and maximum upload speeds of up to 50 Mbps. Additionally, the JioPhone 2 supports 2G bands 900 and 800.
Long Battery Life: Even though the JioPhone 2 is a "smart" feature phone, it isn't as powerful or as capable as a modern smartphone. However, that also means the JioPhone 2 offers much better battery life than an average smartphone. While 2000mAh may sound small for a smartphone, there are few feature phones out there with a bigger battery. As a result, Jio claims the JioPhone 2 delivers a standby time of up to 360 hours.
Reliance JioPhone 2: Other Specifications
The Reliance JioPhone 2 comes with a 2.4-inch 320 x 240 QVGA resolution display, identical to its predecessor. In terms of memory, the feature phone includes 512MB of RAM and 4GB of internal storage, which can be expanded further thanks to a microSD card slot. As for optics, the JioPhone 2 has a 2MP primary camera and a 0.3MP VGA camera on the front. Connectivity features include Wi-Fi 802.11 b/g/n, Bluetooth 4.1 Low Energy, NFC, 4G VoLTE, and VoWIFI. The phone runs on the KaiOS operating system.In terms of specifications, there seems to be no apparent difference between the Jio Phone 2 and the Jio Phone. Both of them have the same camera combinations, RAM capacity, internal storage, display size and resolution, as well as battery size. We will update this space when additional information becomes available, such as processor and clock speed. The feature phones can of course be expected to have different dimensions and weight.
Emerging Technologies And Their Practical Applications
Today we are living in Tech-Era, where technology is emerging at a great speed. Just few years' back where multimedia cellphones and internet was a big deal for us, today almost every hand carry a 4G network. Technology is helping us in our life with many faces. From nanotechnology to artificial intelligence, our scientists are bringing us the best tech to make out life simpler and easier, the world of less manpower and more productivity. The advancement in technology has resulted in successful Robo-citizen "Sophia".
Irrespective of fields, Gadgets are helping us in almost all ways. Some of the emerging technologies with their applications in our practical lives are listed below:
Artificial Intelligence: AI came into existence in 1958, invented by John MacCarthy, this started a new age, which enriched machines with decision making capability. And if you are thinking that these two words are used only for heavy equipment's, robots and large scale companies, then you need to give it a second thought, because the smartphone you are holding is totally based on Artificial Intelligence. The smart assistant in your phone or the portrait mode in your camera This works with the help of AI. Not only in this, companies like Tesla have successfully launched self-driving car where AI is implemented. The feeds in your Facebook and the music in your playlist is according to your past web histories, which is decided by AI.
Robot: Robots came into existence in 1954; George Devol created a fully digital robot. Robots are contributing in our life a lot. Generally robots are used to do repetitive works where humans fail, or that are dangerous. Therefore saving the life and growing the output. But now, it is not only restricted to the production companies, but robots have also contributed to medical, sch as robot surgery, in field of protections such as automatic weapons, education such as Smart boards, and even around your home the popular Alexa, or Google home assistant.
Virtual reality(VR): VR was introduced in 1957, it's an interactive theatre like experience, which takes us to a virtual world with a great experience. It was widely used for gaming purpose, but now it has expanded its limits and reached to the training purpose in military. The commanders are trained with a VR that can train them in fighting driving and combat situation. It has also been used in education sector these days to learn a particular subject more effectively and deeply.
3D Printer: Somewhere around 1980s, Chuck Hull a solid plastic model, built up in layers. This has revolutionized the business sector at a good pace. Where it was hard to get auto parts every time of the same model at every place, the 3D printing made it easier. It can also be used in office where explaining a model was difficult in the 2 Dimensional paper, it is much easier on a 3D model. Not only this, it's fun when you can create a toy for your kid or customize a keychain or any other household objects. Well the most important implementation of 3D printers are in space organizations, where the defected spare parts of rockets can be printed and used up.
Nanotechnology: This technology was found by Richard Feynman, on December 29, 1959. Despite of being so complex and too small, it has many benefits. This technology can be used in the fields of medicine and health to repair our body at cellular level, even in the minute areas. Nano techniques and tools have been also used in the field of agriculture and food processing, packaging department, production and productivity. Nanotechnology also contributes to save the environment. It has less pollution and also it can clean up the existing pollution hence improving the world.
Every one of us enjoys the tech today, from laser weapons to robotic surgery, where technology today can protect us it can also destroy. Thus it is important to use this immense power carefully, that needs our responsibility to take it over with good moral values.
LG V40 ThinQ Launched With Five Cameras, BoomBox Speaker: Price, Specifications, Features
LG launched the enthusiastically anticipated LG V40 ThinQ leader Android cell phone today at a select occasion. The ground-breaking and highlight rich premium Android handset packs a sum of five cameras, and a BoomBox speaker among other best end details.
LG recently conveyed media invitation for the LG V40 ThinQ. The welcome only said LG would declare the cell phone at the New York occasion at 5 PM EDT, October 3 (2:30 am IST on October 4) and on the following day at the Science Park in Seoul's Magok locale at 10 am KST (6:40 am IST). Strikingly, the welcome featured the content "Take 5" which alludes to the five cameras set up in the forthcoming lead cell phone.
As effectively anticipated, the LG V40 ThinQ packs an aggregate of five cameras. The circulation of the camera sensors is three on the back and two on the front. At the end of the day, the leader cell phone has a blend of a triple camera setup at the back, and double selfie cameras on the front. Albeit five cameras on a cell phone is unquestionably an industry-first, the Huawei P20 Pro, and Huawei's next lead models the Huawei Mate 20 and Mate 20 Pro all game a triple back camera setup. Curiously, even Samsung Galaxy A7, a mid-run Android cell phone as well, dons a triple camera setup.
LG V40 ThinQ: Specifications:
The LG leader cell phone has a 6.4-inch FullVision QHD+ P-OLED show with 1440×3120 goals, HDR10 bolster and a 19.5:9 angle proportion. By chance, the presentation has a score at the best and a little button. The sides of the cell phone are truly bezel-less. The screen packs an astonishing 537PPI pixel thickness
Qualcomm's lead octa-center processor, the Snapdragon 845 timed at 2.7GHz, and Adreno 630 GPU powers the LG V40 ThinQ. It comes with 6GB of RAM and 64GB of inward memory. On the off chance that the installed stockpiling appears to be fairly little, the cell phone has a devoted miniaturized scale SD card to grow capacity by up to 512GB.
The greatest feature of the LG V40 ThinQ is without a doubt the camera setup. The fundamental camera dons a 12MP sensor with 1.4µm pixels. It is combined with a more brilliant f/1.5 focal point and Optical Image Stabilization. Strangely, this is the principal LG camera to offer Dual Pixel self-adjust. The essential sensor is joined by the 12MP tele-camera with f/2.4 focal point and the 16MP ultra wide-edge. The back cameras can catch 4K video at 60FPS and 1080p at 240FPS super-moderate movement.
The double selfie camera comprises of 8MP with f/1.9 gap and 5MP wide-edge sensor with f/2.4 gap. These sensors are broadly pre-adjusted and offer studio lighting picture mode, among different highlights.
The LG V40 ThinQ packs a fairly humble 3,300mAh battery pack. Be that as it may, the cell phone underpins Fast Charging on both wired and also remote charging modes. By chance, the handset bolsters QuickCharge 3.0 standard. Unfortunately, the leader Android cell phone still runs Android 8.1 Oreo with LG's custom launcher to finish everything. Be that as it may, LG could be preparing Android 9 Pie refresh. The cell phone estimates 158.8 x 75.7 x 7.6 mm and games an aluminum outline on the back and a Gorilla Glass 5 defensive layer on the front.
LG V40 ThinQ: Features:
It is the primary cell phone on the planet that gives clients a chance to take a far reaching point shot or zoom in widely, much the same as an expert DSLR attributable to three cameras on its back. The wide-point shot extents from the 107° far reaching focal point, through the 78° primary focal point to the 45° zooming focal point. The cell phone's cameras can present to 3x optical zoom.
All the camera sensors include advanced picture adjustment for video alongside HDR recording. Also, they would all be able to take a photograph with interesting points of view with a component called the "Triple Shot". Obviously, Artificial Intelligence or AI assumes a major job by perceiving individuals in the casing and additionally offering different proposals to take extraordinary looking photographs.
LG amuses even in the sound office. The LG V40 ThinQ still games the humble 3.5mm earphone jack. The cell phone highlights 32-bit QuadDAC bolster. The superior handset likewise installs a solitary BoomBox speaker.
The LG V40 ThinQ underpins Fast Wireless Charging, a first for LG. Purchasers can be guaranteed about the toughness and survivability of the cell phone on account of IP68 rating and MIL-STD-810G confirmation. Shockingly, even with this best end equipment and assurance, the LG V40 ThinQ still weighs only 169 grams, which unnecessary to specify, is bring down than Galaxy Note9 and iPhone XS Max.
LG V40 ThinQ: Price, Availability:
The LG V40 ThinQ begins at $900, which means about Rs. 65,000 in India. The lead Android cell phone will be accessible from October 18. The handset will touch base in reflexive Aurora Black and matte Moroccan Blue shading alternatives.
The cell phone could initially touch base in the U.S. prior to going to different areas around the globe. We expect the LG V40 ThinQ could land inside the following couple of weeks in India. Strangely, LG is putting forth a 256GB small scale SD card and in addition DJI Osmo Mobile 2 gimbal to choose purchasers who pre-arrange the cell phone at hardly higher cost.
Realme 2 Pro, Realme C1: Launch Offers, First Sale Date on Flipkart, Top 3 Alternatives At The Price
The Realme 2 Pro was propelled today, on September 27 and was gotten with extraordinary energy, with the telephone offering superb highlights, for example, a 16MP front camera, a Snapdragon 660 AIE processor and a 'Dewdrop' indent in an exceptionally agreeable bundle. In an unexpected move, at a similar dispatch occasion, Oppo's sub-image Realme presented another cell phone, of which it had given no indications before, called the Realme C1. The handset is currently the new section level offering from Realme, retailing at just Rs 6,999 with shockingly propelled highlights at its cost.
While the Realme 2 Pro is a better Realme 2, the Realme C1 is a more spending plan well disposed adaptation of the Realme 2. It is fueled by a Qualcomm Snapdragon 450 chipset, has a 6.2-inch HD+ show with an indent, and a 13MP+2MP back double camera. The front camera is 5MP and has AI-based highlights including Face Unlock, and like numerous section level cell phones, comes in just a 2GB RAM and 16GB interior stockpiling setup. In this post, we will detail the dispatch offers, the deal dates on Flipkart, and the best options in contrast to these two handsets.
Realme 2 Pro, Realme C1: First Sale Date on Flipkart
The passage level Realme C1 (for Champion in one greater portion) will go marked down beginning October 11, 12pm (twelve) on Flipkart solely. As specified above, there is no RAM decision here, with just a 2GB RAM and 16GB interior stockpiling setup. The telephone comes at a dispatch cost of Rs 6,999.
Xiaomi Redmi 6 Pro Review: Blurring The Lines Between Redmi And Redmi Note Series
The Realme 2 Pro is likewise a Flipkart select and will go on its first deal on a similar date, i.e. October 11. In any case, the deal time is 12 am, i.e. midnight, or the primary moment of October 11, which is a somewhat strange and interesting decision of offer time. The cost of this handset is Rs. 13,990 for 4GB+64GB, Rs. 15,990 for 6GB+64GB, and Rs. 17,990 for 8GB+128GB.
Realme 2 Pro, Realme C1: Launch Offers on Flipkart
The Realme 2 Pro will offer in three shading alternatives — Black Sea (dark), Blue Ocean (dim blue) and Ice Lake (light blue). The Realme C1 will offer just in Blue and Black, with the blue being dull in shade. The dispatch offers are the equivalent for the two handsets. You can profit No Cost EMIs utilizing a Bajaj Finserv card, and a 5 percent off on the bill utilizing a Mastercard from Axis Bank, RBL Bank, or HDFC Bank. In any case, the Axis Bank rebate restrain is topped at a small Rs 200, while the RBL Bank gives you a higher farthest point of Rs 750, yet the best sparing is finished utilizing HDFC Bank Visas, with a greatest markdown breaking point of Rs 1,250.
Realme 2 Pro, Realme C1: Top 3 Alternatives at this cost
The Realme 2 Pro is presently a mid-extend cell phone, with its value extending as far as possible up to Rs 17,990. At this value, you get a better than average Dewdrop screen and 8GB RAM with the Realme 2 Pro, however the present smash hits Redmi Note 5 Pro and Mi A2 offer phenomenal camera gear. The Mi A2, for example, accompanies a 12MP+20MP back double camera and a 20MP front camera, so the Realme 2 Pro is no match to it. Likewise, the Nokia 6.1 Plus is another Android One gadget (aside from the Mi A2) at this value point, while the Realme 2 Pro isn't and may feel stalled by the Color OS 5.2 skin in view of Android Oreo.
It likewise passes up something as vital as quick charging. The new Vivo V9 Pro can likewise be purchased for Rs 17,990 amid Amazon's Great India Festival in October, and that handset is additionally fueled by a Snapdragon 660 AIE and furthermore has a 16MP front camera, however the genuine esteem is to be found in its Super AMOLED show; an irregularity in mid-run cell phones. Going to the comparative valuing before long will be the Mi 8 Lite, controlled by a similar Snapdragon 660 chipset and offering an intense 24MP front camera and three appealing angle shading choices.
The Realme C1 unquestionably does numerous traps new in the section level fragment, for example, the indented 6.2-inch show, the octa-center Snapdragon 450 processor, and the back double camera. Additionally, it has a strong 4230mAh battery. In any case, the handset does not accompany quick charging, or some other RAM alternatives, so you are screwed over thanks to a 2GB RAM and 16GB of inner stockpiling, and all the more significantly, the Realme C1 does not highlight a unique mark sensor.
On the off chance that you will spend an additional thousand bucks, you can purchase the new Redmi 6 with a back mounted unique mark sensor, a double 12MP+5MP back camera, and 3GB of RAM with 32GB of inside capacity. The Moto E5 Plus offers at a cost in India of Rs 8,849 and displays a gigantic 5000mAh battery, a comparable double back camera and a 3GB RAM. Likewise, the Realme 2 itself is an ideal option in contrast to the Realme C1, as it costs just Rs 8,990 yet offers an extra unique mark sensor, a perfect jewel cut complete on the back board, a 3GB RAM, and a 8MP selfie shooter.