The Significant City of Philippines – Cebu City
The Cebu city is the first capital of Philippines, being one of the significant centers in the Visayas of commerce, trade, and education. It is the oldest city in the country and a first Spanish settlement, located on the mid-eastern side of the Cebu Island. The name Cebu actually means a place for trading. Cebu Island is the main domestic shipping port in the Philippines and a home to about 80% shipping companies. This place has now been developed and converted into a global hub for shipping, tourism, and business and commerce industry.
History
The Cebu Island was ruled by the Portuguese and later by the Spanish. At the end of 18th century the Philippine revolution began against Spain but before its independence, the American troops captured the place after which the Filipino-American war broke and the Philippines were declared sovereign in 1900. In 1946 the country was liberated and since that time Cebu continued to develop and grow as an important shipping hub for the Philippines. In the late 90's Cebu city was famous for the fashionable shopping centers, movie theaters and restaurants which eventually turned out to be a major trading and shipping hub.
Cultural Identity
The language spoken by a majority of people here is Cebuano. Spanish was used earlier.  For about 80% of the population here follow Christianity in the form of Roman Catholics. The other religions being followed here are Buddhism, Hinduism, and Islam. This place is a remarkable cultural center of the Philippines. Magellan's cross is the city's most famous landmark. The Basilica Minore del Santo Niño which is the Church of Holy Child is just a few steps away from this cross and features the country's oldest historical object, the figure of the Santo Niño de Cebú (Holy Child of Cebu). All the festivals of Cebu and the cultural events are celebrated as Sinulog festival. The festival of Santo Niño, who was formerly considered to be the patron saint of Cebu is celebrated on every third Sunday of January.
Natural Resources
Cebu stretching 196 kilometers from north and south is a narrow and long island. It consists of coastal plains, narrow coastlines, and limestone plateaus and also is surrounded by other islands, beaches, coral atolls, and great fishing grounds. Due to the Tropical climate, the place is an ideal location for the flora and fauna. There are many species of plants and animals which are found nowhere else in the world. The flora here is used as an essential natural resource as ingredients in commercially exported goods and products. Nickel, Iron, and copper are present in a significant amount at this place.
Local Guides and Tours
Casa Gorordo Museum is a huge and significant construction of wood, set in a pleasant, manicured garden well preserved colonial mansion. It features a wide patio and beautifully carved wooden furniture. It has a traditional and beautiful architecture. It costs 70 ₱ for adults.
The small Spanish outpost of Philippines, Fort San Pedro was built during the colonial era. It has a museum which has the wreckage and treasures of San Diego from Mexico. It costs ₱30.
Crocolandia is a place where people can witness different types of crocodiles, snakes, deer, and birds.
Transportation 
In Cebu, there are no direct flights as there is no airport here. To reach out this place there is an airport on Mactan Island in Lapu-Lapu city. It just takes around an hour to reach Cebu city from there.  There are many direct flights to Mactan-Cebu international airport from countries like Singapore, Korea, Hongkong, and Malaysia. It is also the main domestic hub with many flights around the Philippine archipelago. Also, there are buses, jeepney, and ferry available.For local transportation, people use jeepney which is available for 24 hours. Their main terminals are at Ayala, SM mall and along Colon Street. There are local buses available. Taxis are also being used here. The white taxis with price meters are mostly honest in charging. There is a lot of pick-pocketing here so people need to be aware of misleading practices used here.
Transportation Cost
For traveling to Cebu i.e the flights to Mactan-Cebu International Airport from Hong Kong costs around Ṕ6265, Ṕ4282 is the fare from Manila, Ṕ11700 is the fare from Kuala Lumpur and Ṕ11000 is the fare from Singapore. There are many flights available from these places. Ṕ1700 is the cost of bus and Ṕ1750 is the cost of a ferry from Manila to Cebu.For traveling within the city, the jeepney costs around Ṕ10. Ṕ100 is the fare of a taxi which usually does not cross that. Ṕ200-Ṕ250 is the fair from the airport to central Cebu. People can hire cars for Ṕ50 per day.
Political scenario
In Cebu City, there is a mayor, vice mayor and sixteen councilors in which eight represent north and eight represent south region who govern the city. Each of them is being elected every three years. The city administrator is responsible for the day-to-day administration of the city. This City is independent of Cebu province being a highly urbanized city. In the city council, the chief of Association of Barangay Captains also takes initiatives.  Currently, it is the 17th congress in which the present mayor is Tomas Osmeńa LP and the current vice mayor is Edgar Labella UNA.
Economic scenario
The nearness to islands, beaches, hotels and restaurants, diving locations, shipping and significant heritage sites has made Cebu city an attraction to the global tourists. This has flooded the city of arrivals of domestic and foreign tourists. The port of Cebu is the second largest port in the country after Manila. Cebu is greatly accessible to the air, land, and sea which have become a gateway for the tourists to southern and central Philippines. Spread across the province, Cebu has 9 economic zones which facilitate a place to spread across with world-class facilities and a number of business incentives. The economic growth of Cebu has driven a rapid speed because of the increase in business investment, increase in tourism and real estate development.
Reasons to Select the Destination
Cebu is regarded as one of the best tourist destinations in the Philippines which has fun, adventure and thrills to offer to its visitors. This place has amazing shopping malls which include SM Cebu. There are significant gardens to visit like Queen City Memorial Garden, amazing beaches, shipping centers, majestic waterfalls, impressive museums, and monuments. Cebu is one of the famous places to study English in Asia. People here enjoy bike ridings, scuba diving, extreme rides, and swimming. The cuisine here is appetizing and mouth-watering. The weather here is dry and pleasing. Another thing that amuses people is the island of Olango and it is 6 small satellite islands which offer people to observe migratory birds and is also ideal for snorkeling. The beauty of Cebu city can be seen through the villages on its mountainsides. The significant Filipino-Spanish heritage buildings in this city are the attraction to many people. The impression of Spanish and Roman Catholic culture here is palpable.
The Island Of Glory – Jeju City, South Korea.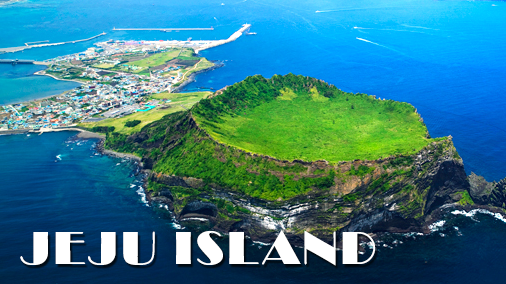 Jeju city is the largest town on Jeju Island. It is a part of Jeju province in South Korea. About over 10 million visitors visit this site from Korea, China, and Japan. The town is famous for lavish resorts, prestigious hotels, and amazing casinos. The currency used here is the South Korean Won. In 2011, the Gimpo-Jeju route became the busiest route making 9.9 million passengers traveling to/from Seoul city and Jeju city. It is also a major ferry domestic terminal.  The town seems to be compact but has a large area. It has a population of 4, 35,413 in an area of 977.8km2.
History
The site has embarked an important role in the history of Jeju. Three ancestors of the Jeju people came from holes known as Samseonghyeol located in the Jeju City. There was a vigorous growth of this town from 1970's. A few decades ago Shin Jeju or commonly known as new Jeju was created with many buildings, houses, offices and the airport. In July 2006, two cities were merged with the other countries like Seogwipo with Namjeju and Jeju Bukjeju Country to make these cities large and to directly administrate them by the province. Earlier, in1955 Jeju was already a part of Bukjeju Country but was separated.
Cultural Identity
The captivating and fascinating culture of Jeju is the mirror image of its society. The Korean language is mostly spoken by people and older generations and English language here is more approachable in the younger generation. Every year the Jeju fire festival is celebrated with a lot of enthusiasm. Other festivals include Tamnaguk Ipchun Gut, Jeju cherry blossom festival, and Canola flower festival.  Japgokbap a multiple grains dishes, Gontteok guk which are rice cakes and Saengseon guksu a dish with fish and noodles are some of the main dishes of Jeju. The things which depict the tradition here are its dialect, foods, customs, myths, and folklore.
Natural Resources
Jeju Island is an island which is volcanic. It is a World Heritage Site which has Volcanoes and Lava tube. Hallasan is the tallest mountain and a dormant volcano in South Korea. Around the main volcano, there are other 360 satellite volcanoes. For about two million years ago, Jeju island was formed by volcanic eruptions which consisted of basalt and lava. The island has hundreds of craters scattered everywhere. There are bija tree forests found here.  There is significant flora and fauna found here.
Local Guides and Tours
Jeju One Day Tour-East: This tour will let you visit some amazing places. The sightseeing includes seeing lava tubes, maze land, sung san sunrise peak, seongeup folk village, and eco land. This tour also offers you with Korean food. The cost of an 8-9hours tour is 69000 won. The transportation and sightseeing tickets will be included.
Jeju One Day Tour-West: This tour is also an enjoyable one. It includes seeing the teddy bear museum, mysterious road, trick eye museum, a waterfall and tea garden with mouth-watering Korean buffet lunch. The fare for this tour is 69000 won. The tickets and transportation will be included.
Transportation 
Jeju International Airport has direct ten international and thirteen domestic flights to Incheon there is one direct flight in a week. Also, there are flights to Hong Kong, Tokyo, Osaka Kansai, Beijing, Shanghai Pudong, Nagoya, Shenyang, Dalian, Changchun, and Fukuoka. The ferry services from Busan port, Mokpo port, Incheon port, Wando port and Nokdong port to Jeju port.
To get around the town and move the best ways of transportations are by taxis or by buses. There are public buses available here. Also, people can hire a car, a bike or a motorcycle for convenience by giving the rent on account of a daily basis.
Transportation Cost
The flight fares for traveling from Shanghai is 108632 won, from Beijing it costs around 156364 won, from Tokyo it is 329188 won, from Hong Kong it costs around 197513 won, from Incheon it costs around 67483 won and from Changchun, it costs around 263350 won. By traveling by ferry it takes a lot of time but is reasonable than flights.
To get around in the town bus fare costs around 4000 won. For taxi it will take 2500 won and as the distance increases the fare will increase. It takes 200000 won by renting a car for a day.
Political scenario
Jeju is a special self-governing province as it is a place of which the motive is to promote tourism. The general administration and political work of this place are carried out by the governor and his substitutes. The present governor of this site is Won Hee-Ryong. Jejudo is the government administrative unit. The site was made Special Self-Governing Province of South Korea on July 1st, 2006. This province was given extensive administrative powers that were earlier only in the hands of central government. This had been done to increase the no of tourist population and development of the island.  This city became a Free International City.
Economic scenario
Being a Special self Governing Province the tourism has been increasing here largely with the huge development of the economy. Also the other industries and sectors like agriculture, fishery, etc which give the share in the economic growth of the town. The Daum Communications which is a leading Korean internet site is a home of all the key functions in Jeju. There are also many international conferences and meeting held at this site. Jeju is famous for this. The island and the city have also hosted a number of notable events. The economic growth and development of this town are huge and rapid.
Reasons to Select the Destination
This town has fascinating and embarking events in which there is a lot of fun and amusement. There are various temples to visit and worship. The notable culture and tradition are stupendous. There are various great sculptures and carvings. The festivals celebrated here are remarkable. Some festivals include penguin swimming, Jeongwol Daeboreum festival, Jeju carnival festival and Bangeo festival. There a variety of special and traditional clothing for visitors to buy. There are iconic stone statues, kinds of green tea, chocolates, and wine to buy. There are numerous restaurants which serve different kinds of dishes of fish and rice is the staple food here. It is a good place to go to parties, relax at resorts or hangout to explore new places.
Jewel of Kedah, Langkawi The Place of Islands, Malaysia.
Langkawi an island which falls within the district of Kedah (Malaysia) is surrounded by almost 100 small islands amongst which only four are inhabited. This place is known as the Jewel of Kedah which is a UNESCO Geopark. Langkawi Island consists of 479sqkm of tropical grounds and is nearby the Thai borders.  Malay is the origin of this place and almost 90% of people living here are Malay's. This place has almost 62,000 inhabitants amongst which most of them live in the capital town, Kuah and others are scattered over a plenty of small villages, hotels, and resorts.
History
Earlier Langkawi was a place for mariners, seafarers, pirates, and fishermen to reside. Some people believed that this island was cursed for a couple of centuries. For pirates, Langkawi was a refuge or asylum which affected the northern part, Malacca Strait. By the middle of the 19th century,  the British recaptured this place from the rule of Siamese. In 1957, Malaya got its independence from the British rule. Until the late 90's Langkawi was very underdeveloped and silent island. By 2010, the government made huge efforts and converted this place a famous and a major tourist attraction. By 2012, the annual tourist visitors of this place reached 3 million.
Cultural Identity
In Langwaki, 90% of the population residing here are Malays. Most of them speak Kedah Malay, while some speak Chinese and Siamese. Islam is practiced by most of the residents of Langkawi. The groups of other communities include Chinese, Indians, and Thais. Different religions are followed by different people at this place. Hinduism is followed by Indians, Buddhism by Chinese and Thai and Christianity by mostly Chinese people. The local people usually speak English. The local symbol here is the Hibiscus flower. This place has a culinary tradition of a combination of Chinese, Thai and Indian tradition. The Baju Melayu is the traditional male clothing and Baju Kurung is the female traditional clothing.
Natural Resources
Northern Malaysia has the state of Kedah in which this district lies. It is a cluster of 99 islands departed from mainland Malaysia by the Strait of Malacca. Langkawi lies 51km west from Kedah and has a land mass of about 47,848 hectares. Langkawi island is covered by forests, mountains and its natural vegetation. Here there is a lot of rainfall. The only dry season lies from December to February. The annual rainfall is more than 2400mm. Here the ecosystem comprises of tidal flats, beaches, estuaries, coral reefs, caves, limestone karsts, ancient rainforests, Palaeozoic-era rock formations, and an astounding level of geodiversity and biodiversity.
Local Guides and Tours
Mangrove Tour is a tour on a river where people can see the birds, monkeys, and eagles searching for food. The river has mangrove trees on both left and right sides. This tour is fun and enjoyable with lively experience.
Island Hopping Tours is a tour which takes people to several islands near Langkawi. The tour just costs around RM5-RM10 for four hours. The two main islands are Pregnant Maiden Island and Pulau Beras Basah.
Cable Car Ride and Hanging Bridge is an amazing an adventurous tour by which the beautiful islands and forests can be seen from the top. This tour costs around RM30.
Transportation 
By airways, direct flights from Penang, Singapore, Kuala Lumpur, Hat Yai, and Phuket are available to Langkawi. AirAsia, SilkAir, TigerAir, Firefly, KLIA  Malaysia airlines and Malindo Airlines are the available options to reach out to this place. Langkawi Ferry, Tropical Charters, and Telaga Harbor are the operators for traveling by ferry. There is no direct train to Langkawi, people need to take the buses to reach out this place from the nearest city's railway station.
For traveling within Langkawi, the taxi's are available here for traveling from one place to the other place. Here cars and bikes are also available for rent. People can hire motorbikes and cars for their transportation due to lack of public transport. Also for traveling to short distant areas, people can use and hire bicycles.
Transportation Cost
Flights from Kuala Lumpur to Langkawi costs around RM150-Rm200 and flights from Singapore to Langkawi costs around RM200-RM250. To reach out Langkawi by ferry it usually costs around RM30-RM130 depending on the distance covered.
For traveling to this place by taxi it costs around RM30-RM50. The prices of these taxis are fixed. On hiring a car for traveling, the rent for a small car costs around RM50. For an air-conditioned mid-sized sedan the rent is RM70-RM150 per day. To hire a 150cc motorbike, the rent is around RM45-RM50. For people who wish to travel on a bicycle the rent for one day will cost around RM10-RM30.
Political Scenario
In Malaysia, the politics is based on the pattern of Federal Constitutional Monarchy, in Which the country is ruled by the king and the prime minister. There are 13 state governments here.  The head of this place Langkawi is Yang Di-Pertua i.e is the mayor of this place. The current Yang Di-Pertua is Sultan Muhammad V. The main purpose of the government in Langkawi is to promote the development of this place and promote tourism.
Economic Scenario
Langkawi is an agricultural based economy where there are vast rubber cultivation and fisheries. This island has beautiful ecological environment because of which it has become tourism-driven economy. The government of Langkawi take care and prevent the biological and environmental factors which can get exploited. The Northern Corridor Economic Region is a development program formed by the government of Malaysia to increase the economic growth of this place and the north peninsular region. The Northern Corridor Economic Region has the targeted the goal to reach MYR64.5 billion by 2020 from tourism expenditure. The world Geopark was the name given by UNESCO to Langkawi island.
Reasons to Select the Destination
Langkawi is an astonishing and impressive island. It is known as the Jewel of Kedah.  The archipelago of Langkawi was declared Southeast Asia's first UNESCO World Geopark. Also, this place is known for is attractive and alluring sceneries.  The place has many beaches like Pantai Cenang, Pantai Tengah, Pantai Kok, etc. Here there is a lot of wildlife sightseeing for the wildlife lovers. People can spend an enjoyable and delightful time here. There are many cruises and marine restaurants to enjoy the cultural and traditional cuisine at Langkawi. There are many shopping malls and markets for shopping. This place is tax-free i.e duty-free. There are lots of things that are tax-free at Langkawi. The mangrove forests and rainforests, sandstone mountains and tidal flats, caves, and reefs, are some natural resources which exist in Langkawi in abundance. The people living here are very generous and kind. The alcohol here is relatively cheaper than any other place in Malaysia. Langkawi is one of the places where people can enjoy, have fun, relax, and spend a wonderful time with family and friends.
10 Famous Street Markets in Delhi that can help you keep your Salary Alive while Shopping
Shopping doesn't always have to hit you in pocket, sometimes it is just a soothing time and cheap. Street Markets in Delhi is a shopper's paradise because you can literally find everything here and that too for a bargain. Whether you are looking for handicrafts, ethnic wear, shoes, clothes, ethnic, junk jewellery or designer wear, you'll get it all at a price where your salary has to take a hit at the street markets around the National Capital.
Here is a list of 10 famous street markets in Delhi that can offer you everything you need, at a smaller cost and make your closet as new as ever.
Kamla Nagar Market
A favourite among college people, Kamla Nagar is a shopping hub. Students of Delhi University are often found wandering in the streets of Kamla Nagar buying those cool hot pants or adding a funky sling bag to your collection or maybe just picking a colourful pair of slippers, all of it at dirt cheap prices. In addition to an endless list of street shopping options, you can also check out Puma, UCB, Incense and more to satiate all your brand-conscious cravings.
Janpath Market, Connaught Place
Janpath is located right opposite Connaught Place, and it is like a parade for shoppers on a budget. It is the best place to shop if you are looking for great bargains. Be it those hippy styled clothes, junk jewellery, brassware, paintings, leather clothing, Indian handicrafts, shoes or decorative items, this flea market has got it all. So, this the place you should go to find the latest trends for well below ₹300-400
Chandni Chowk is known to be e hub for everything, because this street market is always brimming with sarees, heavy lehengas, brassware, antiques, artificial and real jewellery, plethora of fabrics and loads more. Each lane in this market is dedicated to different products like the Katra Neel is all about the fabrics, Dariba Kalan is known for silverware and jewellery while the Khari Baoli and Sadar Bazaar are wholesale markets full of spices, dry fruits, incense sticks and more! So, with the wedding season already here, Chandni Chowk is the place to be.
Sarojini Nagar Market
Sarojini Nagar Market equals to great shopping and even better bargains. This super huge flea market is a shopper's heaven 'because here you can find anything and everything. From those trending jhumkas, funky bags to chic dresses and even classy home furnishings.
Dilli Haat
Delhi Haat is a hub for handicraft products, it is quite popular among the people of Delhi when it comes to shopping for apparels, crafts and jewellery from different parts of the country. From Kashmiri shawls and hand embroidered pillow covers and bed sheets from Gujarat to handicraft products from Rajasthan, you get everything at Dilli Haat.
With the monsoon approaching, we say you take your mom for a shopping spree here and relish momos from Sikkim or the Puran Poli from Maharashtra whilst enjoying the weather. it is located in INA, Janakpuri & Pitampura
Central Market, Lajpat Nagar Market
This is one of the oldest markets in Delhi and sells just about everything. From clothes, fabrics, bags, shoes to accessories and home furnishings they is everything you can find on these streets. And other than clothes you can also find some tasty street foods.
 Karol Bagh Market
If you live in West Delhi, we're sure Karol Bagh Market is one of your go to places for your regular knick knacks. This one's quite popular for its vast collection of artificial jewellery 'cause of which the market gets super busy during the wedding season. Also, the Gaffar Market is a hub for electronic items that are available at super affordable prices. Be it the latest phones, laptops, music systems or even TVs, you'll get them all here.
M Block Market, Greater Kailash
You'd know what the hype is all about at the very moment you set foot inside this street market. From the sturdy handbags (copied from Prada and Gucci), eye catching clutches to daily wear kurtis, palazzos, heavy blouses and just about everything a shopper looks for. And all of these at dirt cheap prices, only if you're good with bargaining.
Jwala Heri Market, Paschim Vihar
Known as the heart of Paschim Vihar, Jwala Heri is the busiest marketplace, mostly popular for clothes, accessories, jewellery, food and computers. It maybe a little congested, but it is famous for trendy styles.
Lal Quarter Market, Krishna Nagar
We're sure this one comes as a little surprise to you all, isn't it? But, let us tell you that this lesser known market in Krishna Nagar gives you the vibrant village feels. You'd love this one if you're looking for traditional wear including sarees, bangles, cheap jewellery and other assorted items. In addition to these, you can also shop for kitchen appliances, toys and other stuff here.